Solutions around quality and safety in plant engineering, operation of assets and critical infrastructures – Think Quality – globally!
THINK QUALITY – THE GUIDELINE OF OUR ACTION.
From the very beginning ALPHA was focused on a clear and simple goal: to improve quality and keep it on high level on a daily basis. I am convinced that this is the only possible way to ensure the long-term safety not only for equipment or machines but also for all people.
Regardless of boundaries and regions there are values and ethic principles that are binding for all employees including myself that specify our fundamental rules about how to work with our customers and partners.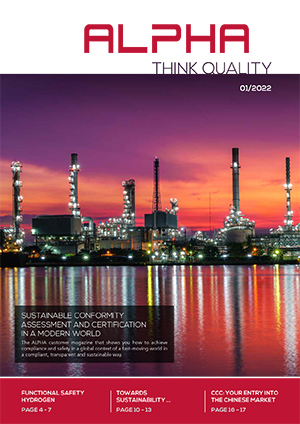 "ALPHA – THINK QUALITY" 01/2022
Dear customers from all over the world, employees and long-time friends of ALPHA. This is the first issue of our customer magazine "ALPHA – THINK QUALITY" in your hands. Our magazine is intended to show how international standardization, innovation and our work as an engineering and certification service provider are connected in a multifaceted interrelationship. New, innovative aspects "around quality" and technical compliance are presented in our magazine.
ANY QUESTIONS?
We'll gladly call you!