AT HOME IN THE REGION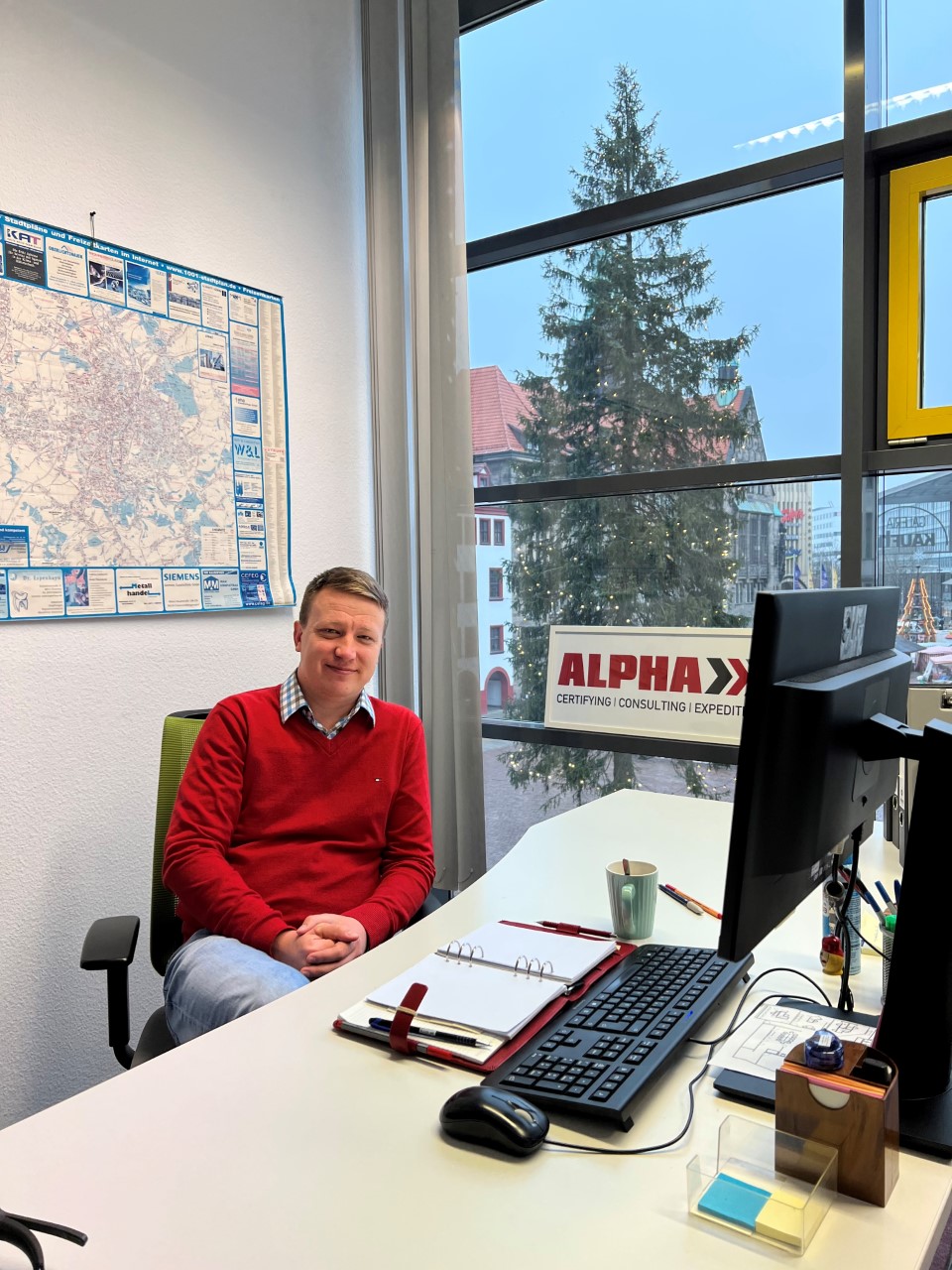 1. In which position do you currently work at Alpha Consulting?
Project manger, Dipl.- Engineer.
2. When did you come to Germany and what was it like for you?
I arrived 01.12.2016, so now 5 years left. It was really challenging and but also hard, my family joined me 1 year later. But I do not complain, it was my decision to move. Before my departure I visited Germany on the regular base 5-6 times a year but Saxony and East Germany were "undiscovered world" for me. Thanks to our CEO Dr Krause, he made my integration into new reality smooth and relaxed. We visited together home matches of our lovely local football team CFC, I was widely engaged into business trips from the very beginning. You do not have time for regrets and depression when your brain is busy! Keep on working, negative thoughts will disappear.
3. What do you particularly like about your job?
Creativity and freedom. We have very creative CEO – Dr Krause, very creative team and reliable customers. All our team members have full freedom in making decisions, which is huge competitive advantage.
4. How did you come to Alpha Consulting?
We met each other with our CEO in London in 2012, not the worst place for business. We did a huge project for Siemens Lincoln in Ukraine, couple of smaller projects and after Dr Krause decided to invite me for gas pipeline modernization project in Ukraine.
5. How were you received at Alpha Consulting when you started there?
Great. I am very grateful for whole Alpha team. After one week of work in company I felt myself like I was here for 15 years. We have wonderful atmosphere and friendly colleagues.
6. What do you like best about your employer?
Alpha gives possibility to submerse into European world of Industry. In case you like business travels or show interest in huge industrial equipment – this will be provided! If you like to work from office, prefer paperwork – not problem, this is also possible. I worked 8 years in conformity assessment and my customers was whole German boiler and heating appliances industry – Viessmann, Vaillant, Robert Bosch, Oventrop and etc., but now I redirected my experience to new direction in the other fields of modern German economy.
7. Have you settled in well in the region? What do you do in your free time?
I feel safe and comfortable in Saxony and Chemnitz in particular. After 5 years here I understand that Saxony is the most underestimated land in Germany, we have wonderful climate, landscape and nature. Hope federal government will launch new speed trains from Chemnitz. City is big, fast developing but business trip with train is still kind of  adventure. Freetime I spend with family, we have newborn kid, mainly we walk together in the parks or neighborhoods. We reside on Kassberg and there is no need to go somewhere – I get inspiration from our Art Nouveau style. I am not a professional  artist or architect but each day I discover something new in our district.
8. What do you like best about our region?
Landscape. Our city is fast developing, when I can in 2016 it was covered by bleeding wounds of ruins left from DDR industry. Now due to our former major Barbara Ludwig (my personal thanks to her) city has changed completely. Another point is schooling system, it is decided as the most efficient in whole Germany. My elder daughter successfully graduated from ground school and now studies in gymnasium. Local schools give equal possibility and conditions for all children of all nations and races.
9. What are your plans for the future?
I have intensive professional development here in Alpha, my career goes in proper way here in Chemnitz. We grow together with Alpha. Also Chemnitz is comfortable place for families with children, no need to look for something else.